On March 5th, 2012 WelshPixie announced they would be holding a monster monster contest where the fans would enter a design for a monster and it would be implemented into the game.
first place won
Their monster in the game
A free copy of the game
A sparkly "gold star" avatar overlay like the devs and staff
The "Contest Winner" title beneath your avatar
Two runners up won
"silvere star" avatar overlay
the "runner up" title beneath their avatar
The winner of the contest's name is TomServo for his creation of the Poptop.
A seeming harmless design, looks much like a little girl in a dress. But once you get past the seemingly adorable exterior, you see that the pigtails are in facts it's arms and the hairline are it's razor sharp teeth. This creation quickly won it's way into the game and the fan's hearts as it has became a sort of "mascot" for Starbound being seen in multiple screensavers and dev posts. The Poptop is a vicious carnivore who is sure to give you a run for your money when met. But if that wasn't enough as it ages it becomes a much bigger, meaner version know as "Poptop hearders" as they stand 11 feet tall and are monsterous.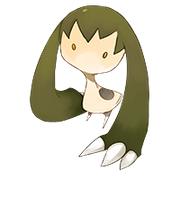 Full educational pamphlet can be found in the link below.
http://community.playstarbound.com/index.php?threads/the-poptop-educational-pamphlet.3407/